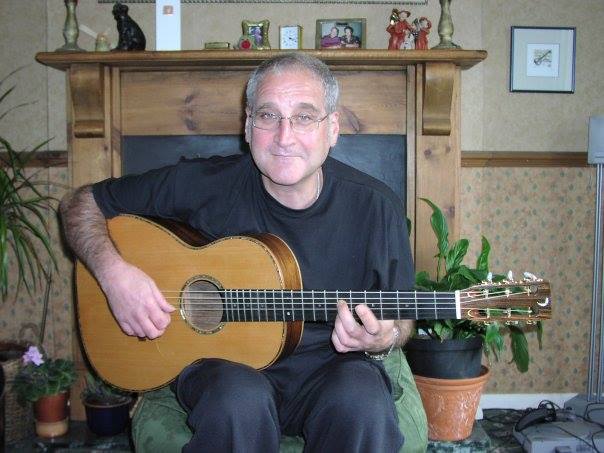 Ed Korolyk
Lincoln – Hattingen Music Exchange, "United All Stars"
When the English and German musicians visited each other in the first few years of our exchange, they stayed in host families and of course shared their interest in music. That was fine, but in our concerts we still played separately with the exception of one or two joint pieces. It soon became obvious that there had to be more to it than that. After all music is a universal language and it is natural that musicians from different backgrounds should meet and just play music together. So this is what we did ever since: Right from the start the students' mutual interest in music provided a common ground without any inhibitions and without competition, as they were all working towards a common goal. Some memorable performances of the joint band were the audible result, and for quite a few of the young musicians this experience proved helpful with regard to future careers in music. But the students profited enormously in other aspects, too, learning about each other's culture and developing their social skills. It surely took some degree of ignorance not to see the great value that this very special exchange programme held for young people. The "United All Stars" of Lincoln Christ's Hospital School and Gymnasium Waldstrasse became a long-standing tradition with annual visits.
Parallel to this we also had a very similar project going at LCHS with a High School in Canton, Pennsylvania. And again, it seemed natural to join musical forces. The result was the "Magic Triangle" that was formed from 1998-2000. After the debut in Lincoln, students from Lincoln and Hattingen travelled to the USA together in 1999. (More details about this can be read in Mr William Krause's contribution.) On our way to the airport we stopped over in New York and I remember sharing a drink of friendship with Bernd – we had a "Manhattan" in Manhattan! The year after that we all met again in Lincoln and subsequently should have met in Hattingen, but before it came to this the Americans sadly left the programme. So the CD we produced in the following year was one of the "United All Stars", the programmatic title of the CD being "Dual Fuel".
After my retirement Bernd Wolf carried on the good work with Mr Mark Horner and his students, first in Sutton Coldfield, then with Mark's new school in Norfolk. Two years ago I was invited to come to Wymondham and join the band in their performance at Wymondham Music Festival – it was touching to see the spirit still being the same, and it was nice to hear that some of our old material still forms part of the new band's repertoire.
So let's hail diversity but always remember that in the end "tutto il mondo è un paese" (the whole world is one country), or as I liked to remark to the young musicians after yet another successful exchange: If the future of the world is in the hands of these young people, there is nothing to worry about.
Edward Korolyk
Former Director of Music
Lincoln Christ's Hospital School
Wal(l)d St. Wolfgang and the Funky Bishops
The first exchange between Gymnasium Waldstrasse and Bishop Vesey's Grammar School took place in the Summer of 2003. My colleague Rudi Gotschel, a.k.a."Rudi the Roadie", met a certain music teacher called Bernd during a visit to friends in Hattingen. He returned to Sutton Coldfield with great enthusiasm about putting the Jazz bands together and the rest, as they say, is history.
The band's name, created by staff and student imagination, caused some consternation amongst the more traditional members of staff at Vesey's, until they heard the music – then all concern was quickly forgotten! A combination of traditional big band swing and the toe-tapping arrangements of Bernd Wolf were immediately popular with all concerned, and we have been haunted by "Green Onions" (one of Ed Korolyk's arrangements) ever since!
Those first exchangers included Katherine Schuler, Steffen Meier, Melanie Block and Felix Hasebrink, along with Alec Hyam, Samantha Payton, David Jones and Elena Clark and, of course, many more. It was a privilege from day one to work with such talented students and musicians, and the special links between them continue to this day. Steffen always seems to appear whilst we are in Germany, giving his support in the audience and reminding me of our idea to stage an "All Stars" reunion. One day Steffen, it must be done!
Performances in both schools as well as in the Altstadtfest and the Lichfield Fuse Festival ("The event in a tent") continued for the next 5 years, until my wife and I decided that a move to the beautiful county of Norfolk was something we had longed for long enough. So, farewell to Bishop Vesey's and the Funky Bishops, great times and great students, and hello Wymondham.
Wal(l)d St. Wolfgang and the Wymondham Wonders
And so, we began again…. The students of Wymondham High Academy were quickly formed into a Jazz band, and the idea of an exchange naturally followed. I was delighted that Bernd was happy to move the link to Norfolk, and this year marks our 6th venture, (+5 with Vesey's) 11 in all!
The same enthusiasm and camaraderie has developed, as we knew it would, and performances in the Wymondham Festival and the Royal Norfolk Agricultural Show have received a very warm response. This year we look forward to taking part in your centenary celebrations, a great honour for us.
Both Bernd and I are, I think, justly proud of the exchange which works so well on so many different levels. Lasting friendships are formed, and students link with each other to produce a quality product – something for which both schools can, like us, feel a real sense of pride. Thank you to Herr Dr. Niggemann and his staff for making us so welcome over the years and, of course, a huge thank you to the Host Families without whom the exchange would not be possible. The staff and students of Wymondham High Academy, and I'm sure of Bishop Vesey's Grammar School, wish Gymnasium Waldstrasse many happy returns for their 100th birthday.
Mark Horner
Director of Music
Wymondham High Academy
Music Exchange: "Magic Triangle"
The exchange program between the two schools, Lincoln Christ's Hospital School (Lincoln, England) and Canton High School (Canton, PA USA), began with a phone call from Dr. Fred Heaps from a nearby college (Mansfield University, Mansfield, PA) around 1988. The call to
AFS advisors, Mr. and Mrs. Wayne Seely, initiated a series of meetings with Canton HS officials and resulted in the first exchange which established the relationship that lasted from 1989 to 2000. After that first effort the Lincoln Christ's School Headmaster (Mr. David Cox) and Deputy Head (Mr. Chris Williams) contacted me (Mr. William Krause) and suggested that the exchange move to a more specific footprint – that of music. We fully agreed and the planning for a music exchange began in earnest in 1992. A two year cycle found the Lincoln music students arriving in Canton during the month of October 1994 with the return leg of the exchange scheduled for the following February (1995). Future music exchanges maintained that two year schedule with a final visit to Lincoln in the year 2000.
The planning and execution of the musical portion of the exchange program was accomplished by the Directors of Music: Mr. Edward Korolyk (LCHS) and Mr. Daniel Boone (CHS). Producing the program fell to the administrators; Mr. David Cox and Mr. Chris Williams for LCHS and Mr. William Krause for CHS. This effort was very collaborative and both schools visualized many positive aspects and realized productive student outcomes from their work. Students lived with local families and attended school, practiced and blended musical talents, performed for local concerts, traveled to historical places in both countries and performed in those venues. In the 1998-2000, the music exchange formally expanded to include the Gymnasium Waldstraße from Hattingen, Germany, with their Director of Music, Mr. Bernd Wolf. The three schools debuted as the Magic Triangle at LCHS in the spring of 1998. With Directors Korolyk, Boone and Wolf --- the universal language of music was magical. On the return music exchange visit to Canton (USA) – the new music director, Mr. Chris Stine, blended his talents with the British and German directors to continue the excellent musical program. A poignant moment distills the essence of this wonderful exchange: Deputy Head Mr. Chris Williams from Lincoln remarked (paraphrased); on a stage in rural north-central PA, a young German vocalist sang a Spanish song, accompanied by a combined German/US/British band under the combined direction of two conductors – one Polish/Italian and the other German.
Some notable performances were at the Visitor Center at Niagara Falls, NY (USA), the British National Railway Museum at York (UK) in which the Secretary of Culture, Media and Sport for the Blair Government (MP Chris Smith) was in attendance and the Canton Apple and Cheese Festival. Many other memorable moments and events impacted the lives of young men and women from the participating schools (i.e. marching at halftime of a US football game, participating in various Halloween parades, and the ever popular local concerts for the host school and community.).
For twelve years this exchange provided our students with an experience that was life changing. The mission proved that through music we all can cooperate and realize our interconnectedness in the larger world. Even though this program has ended, some administrators, music directors and students still remain in contact. In September 2014, my wife and I will travel to Hawaii for a reunion with our first British host parents – Patrick and Ros Curbishley (1989). They were most supportive of Lincoln Christ's exchange efforts and in that school's overall educational endeavor. They are now Australian citizens and enjoying the fine art of grand parenting (James and Emily) in Perth, WA, AU.
William Krause
Former Principal of Canton High School
Canton PA, USA